Trinity Church History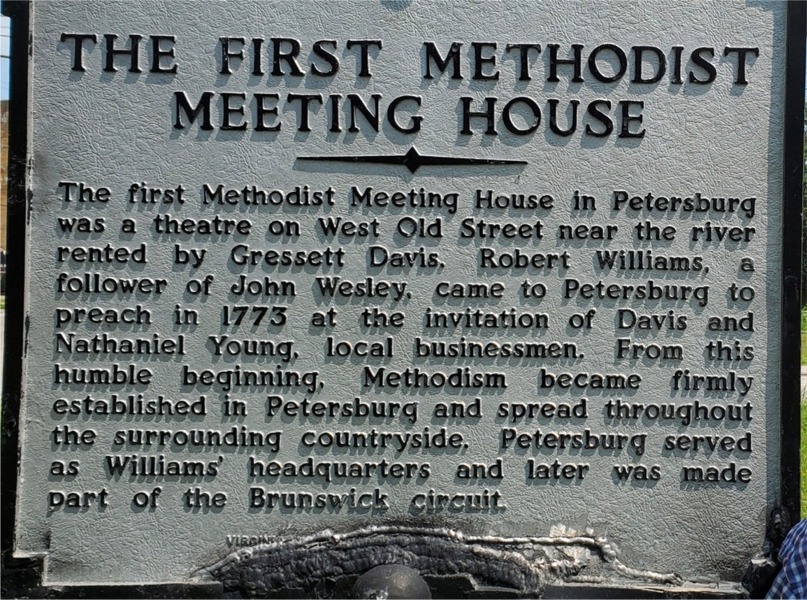 Welcome to Trinity United Methodist Church
Downtown Petersburg, Virginia
The glory of this latter house shall be greater than of the former, saith the Lord of Host:
and in this place will I give peace, saith the Lord of Host. Haggai 2:9 520 BC
History of Methodism in Petersburg, Virginia
In 1773, Petersburg, Blandford, Ravenscroft, and Pocahontas Island were separate villages on the banks of the
Appomattox River. There was no church in Petersburg and only one Episcopal church in Blandford now know as
Old Blandford Church but was only open a few times a year.
Two businessmen concerned about the moral and spiritual condition of the community, invited an itinerant
preacher originally from England to preach at an area theatre located on Old Street in downtown Petersburg.
By the year 1820, after holding meetings in private homes and buildings once used for a hospital and barracks
during the Revolutionary War, Methodism begin to flourish with the construction of Union Street Church.
About twenty years later, the growth of Union Street split into two churches becoming Washington Street
and High Street. Then in 1857 Washington Street split to form Market Street Church on the corner
of Market Street and Halifax Street. Market Street Church relocated to Sycamore Street and became
Trinity Church on February 25, 1923.
By J. Pinkey Williamson, Esq. in 1917
"Being the oldest member of this church, connected with it from the day of its organization, I was requested
from several friends that I leave them a little sketch of its history is hereby compiled with.
I will look back from my 87th mile post of time and memory and give some facts which may be interesting.
More than a century ago a little tree of Methodism was planted in this town. After our great struggle with the mother country
we were left in spiritual as well as material poverty. John Wesley, and others in England, who had found the Truth, looked
upon America as a great missionary field and came over and preached the true gospel.
Among these was Bishop Asbury. His circuit embraced Virginia and North Carolina, and he endured many hardships
for the sake of the souls of men. He came to the small town of Petersburg, where he found a few of the true faith.
Among these may be mentioned Mr. Harding, for whom one of the streets of the city is named.
As the town grew the membership increased so rapidly that it had to "swarm," and a nice brick church was built
on the East side of South Union Street, on the lot now occupied by the firm of Roper & Company.
The first General Conference of the M. E. Church, South, was held in that building on May 21, 1846.
Continuing to grow, it was necessary to "swarm" again, and Washington and High Street Churches were built.
In 1857 the Rev. John E. Edwards was sent to Washington Street Church. He had a great revival there
and more than a hundred were added to its already large membership. Again it was found necessary
to "swarm" and Market Street Church was planned. Its membership was composed largely of young families
transferred to the branch from the parent street."
First Musical Instrument For Worship in Petersburg in 1858
By J. Pinkey Williamson, Esq. 1n 917
"Being mostly young people, we were dependent on our pastor and a few older members for guidance.
The question of organizing a choir was quite a problem, as we had only raw material to draw from.
We employed a good brother, Bartlett, from the Presbyterian Church to instruct us and to give us the pitch
with his "tuning fork." The music thus rendered was not pleasant at all, and it was suggested that our part
of the performance might be made more efficient and agreeable if we could get a small musical instrument
to guide us, instead of Brother Bartlett's tuning fork. And then we had it!
The idea of this little, young, proud set of Methodists introducing instrumental music in the church,
when there was no such thing in any other church in town, caused a commotion. There was talk
and talk and talk—many predicting that it would be the death of the church. When our level-headed pastor
heard it, he said the best thing to do would be to call a church meeting and ascertain the sentiment.
So the meeting was held, with a large attendance. Those who favored having an instrument presented
their views, and those opposed presented theirs. When the question was called, all but two voted for
an instrument, and later it was made unanimous. We bought a little Melodeon, about as big as a sewing machine.
In a short time all the other churches fell into line and followed Market Street's lead."
Copyright © 2022 Trinity United Methodist Church in Petersburg, Virginia - All rights reserved.
The Methodist Movement in 1773

Home Page